Effective October 1, 2017, the following contractors are responsible for collection and disposal of solid waste from residents in Biloxi, D'Iberville, Long Beach, Pass Christian and the unincorporated areas of Harrison County.
Team Waste will handle all garbage and recycling pickups.
Pelican Waste will handle all trash (rubbish/debris) pickups.
Garbage, trash and recycling services will all occur on the same day, based on the following map.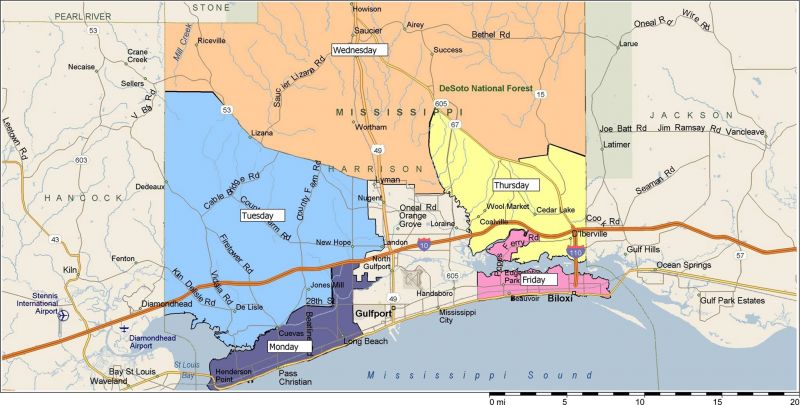 Residents should use the 96-gallon brown HCUA cart for garbage and the 35-gallon green cart for recycling. Bagged garbage or recycling outside the carts will not be picked up.
Carts should be placed outside by 6am on your day of service. The cart should be placed curbside with the handle facing your home. It should be placed at least two feet from vehicles, shrubbery, fire hydrants, mailboxes, etc. Do not block sidewalks or driveways or place carts in the street.
Trash (limbs, clippings, bulky items like furniture, etc) should be placed by the curbside. All leaves and grass should be bagged.
For more information on these services, please select the appropriate link below or call (228) 701-9086.